All under one roof at 3Brothers Bar & Restaurant
Our menu has something for everyone!
Now Serving Brunch!
Saturday and Sunday
10 am to 1 pm
Main Menu Preview
Served with saffron rice and arugula salad
Served with fondant potatoes and grilled asparagus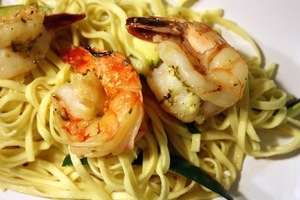 Sautéed shrimp with garlic wine sauce over linguini.
Brothers is a very welcoming and friendly environment. The food is excellent and is very affordable. I had the best service I've had in a while. Chris made our experience fantastic, the service was magnificent and it's always good to have a comedian in the room.
"This is a place that Hanover needed! The owners really stepped it up. Good food, awesome staff, and a really cool atmosphere. I will be back!"
Brothers has 5 star food without question. From seafood all the way to brick oven pizza and calzones. I've tried about 10 items on the menu and every single one has been delicious. It's a great place to have a few drinks with some friends and to just relax and watch some sports. This place is the best restaurant around no doubt.
 Please feel free to send us a message. We will get back to you as soon as possible.